Boy it has been a very long week for me since last Tuesday. Getting these blog tours put together is a heck of a lot more work than I thought it would be, wow! Okay enough of my whining! Welcome to another week of hopping. I hope everyone had a good week. This week's book of interest is "A Mom After God's Own Heart By Elizabeth George" It is a wonderful devotional for every day. In addition, again I hope you will spread the word about the hop since it is rather new, and we need more hoppers, lol! Have a great week and enjoy!
1. Join Tuesday Linkup Blog Hop Via GFC


2. Please leave a comment for a follow back from others and myself

3. Please Visit The Other Blogs That Have Entered

4. Share This Hop With Your Friends, Followers Or Fans, etc

.



5. Grab The Button Below And Share The Love!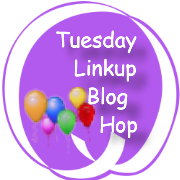 ~ ~ ~ ~ ~ ~ ~ ~ ~ ~ ~ ~ ~ ~ ~ ~ ~ ~ ~ ~ ~ ~ ~ ~ ~
Drawing from her bestselling books (more than 6.5 million copies sold) and popular "Woman After God's Own Heart" radio spots and podcasts, Elizabeth George shares positive and energizing devotions for moms presented in a lovely padded cover. Moms with children of all ages will delight in Elizabeth's personal experience and understanding of Scripture as they...
~ ~ ~ ~ ~ ~ ~ ~ ~ ~ ~ ~ ~ ~ ~ ~ ~ ~ ~ ~ ~ ~ ~ ~ ~